Comic book artists have strived to do their best on the pages of the comic books and to leave a mark. However, only a few have succeeded.
In the following paragraphs, I will present the ten greatest comic book artists of all time.
John Romita Jr
John Romita Jr is known for creating the character of Hobgoblin. Recently, he has become known for writing Kick-Ass with Mark Millar and drawing Iron Man in Demon In a Bottle Series.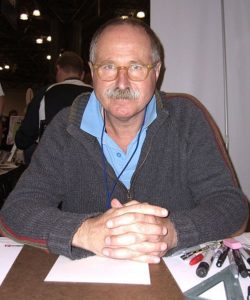 Brian Bolland
Bolland's first job was on Powerman, a Nigerian comic book. In 1988, he drew Batman: The Killing Joke. He became famous along with Alan Moore for this comic book, and The Killing Joke became the most controversial and one of the most popular Batman stories.
Will Eisner
Eisner is known as the father of the graphic novel. At first, he worked as a cartoonist, and then he changed his job and started writing and drawing comic books. He is best known for his comic book "To The Heart of The Storm". 
Jim Steranko
Jim Steranko started his interest in art as a teenager. He started his comic book career with Harvey Comics. It was there that he met with Stan Lee which later on gave him a chance to work with Marvel. Currently, he is at the Radical Publishing where he designs toys and their comic books.
Osamu Tezuka
Osama Tezuka is a Japanese comic book artist. He is famous for his Astro Boy character which appeared in Captain Astro. It was an extremely popular character which made Osamu Tezuka popular in Japan.
Steve Ditko
Steve Ditko was taught by Jerry Robinson, the Batman artist, and learned a lot from him. The experience he had and the knowledge he had turned him into one of the greatest comic book artists. He started his career with Stretching Things. Afterward, he started working for Marvel. He was a part of Iron-Man projects, Spider-Man projects, the Hulk and many others.
Frank Miller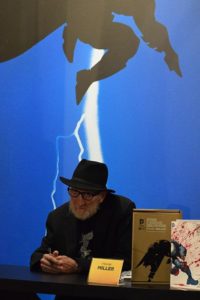 Frank Miller is another Marvel comic book artist. He started his career with The Twilight Zone and afterward started working for Marvel Comics. He is best known for the Dark Knight Returns. But he worked at the Spider-Man project, V for Vendetta and many others.
Dave Gibbons
Gibbons is an English comic book artist known for his horror and action comic books. He worked with Alan Moore and later on became the lead comic book artist on Doctor Who.
Steve Dillon
Dillon started his career at a very young age while working on a school project called Sci-Fi Adventures. At the age of 16, he drew the title story in the first issue of Hulk in the UK. Nowadays, he is the most famous for his Preacher.
Jack Kirby
The king of innovations among comic book artists is famous for his characters, for his stories, genres, and creative devices. His Captain America is one of his most famous works. He was one of the most influential artists in his time and he left a mark.